3D Landscaping design services
At Groupe Mikasa we understand that visualizing your landscaping project can be a challenge. It can be difficult to envision how your outdoor space will look once the design is implemented. That's why we offer 3D rendering services to bring your landscaping ideas to life. Our team of skilled designers uses cutting-edge technology to create realistic and immersive 3D renderings of your future landscape.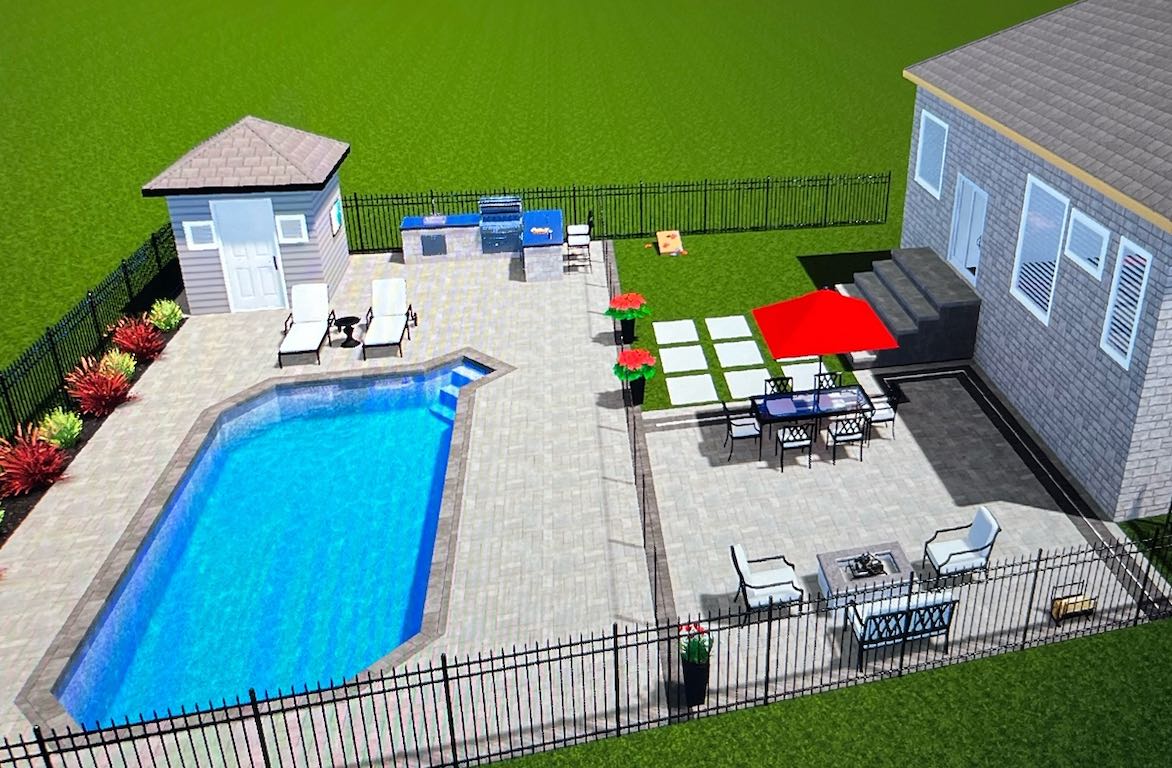 What is 3D Rendering?
3D rendering is the process of creating a three-dimensional representation of a design or concept. In the context of landscaping, it involves creating a digital model of your outdoor space, including elements such as plants, hardscapes, lighting, and textures. The 3D rendering allows you to see a detailed and accurate depiction of your landscape design before any construction or installation takes place.
Why Choose Our 3D Rendering Services?
Visualize your dream landscape
Our 3D renderings provide you with a clear and realistic view of your future outdoor space. You can see how different elements come together and make informed decisions about the design, materials, and layout.
Make informed design choices
With our 3D renderings, you can experiment with various design options and see the results instantly. This allows you to explore different layouts, color schemes, and plant choices, helping you make informed decisions that align with your preferences and requirements.
Save time and money
By visualizing your landscape design in advance, you can avoid costly mistakes during the construction phase. Changes can be made easily in the virtual space, preventing rework and additional expenses down the line.
Enhance communication
Our 3D renderings serve as a powerful communication tool between our team and clients. You can easily share the visual representation of your design with contractors, architects, and other professionals involved in the project, ensuring everyone is on the same page.
Consultation
We start by discussing your landscaping goals, preferences, and budget. Our team will gather all the necessary information to understand your vision and requirements.
Design Development
Our skilled designers will create a detailed 3D model of your landscape design, incorporating all the elements you desire. We will pay close attention to the accuracy of scale, materials, and lighting to ensure a lifelike representation.
Review and Feedback
Once the initial 3D rendering is ready, we will share it with you for review. You can provide feedback and request any modifications or adjustments.
Finalization
After incorporating your feedback, we will finalize the 3D rendering, ensuring it accurately reflects your vision and preferences.
Delivery
We will deliver the final 3D rendering to you in a format that is easily accessible and shareable. You can use it to communicate with contractors, obtain permits, or simply as a visual reference throughout the landscaping process.
Ready to bring your landscaping ideas to life with our 3D rendering services? Contact us today to schedule a consultation and discuss your project requirements. Our team of experts is eager to help you create the outdoor space of your dreams.